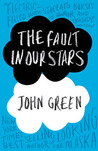 The Fault in Our Stars by John Green
My rating: 4 of 5 stars
Read this because of all the hype surrounding the movie. Haven't seen the movie, probably won't.
I liked the book. I did. But it wasn't the tear jerking, profoundly life changing book people promote it as. At least, not for me. No tears.
What I liked about the book: Smart writing, fast reading that sucked you in, and a better understanding of some of the lesser known issues a person, especially a teen, faces when dying of cancer, like the unrealistic pressure to endure it like a saint.
What I didn't like about this book: The dialogue, while using interesting metaphors, did not sound like it come out of any human's mouth, let alone a cancer struck teenage girl or boy. How long did John Green take to come up with the dialogue vs the seconds in a real conversation that someone has to think about what they are saying. It was also pretentious, with the kids so much smarter than their parents, or even the author they'd come to cherish and hate. And then the love story…well, it didn't feel real, either. Like, love-at-first-sight-mixed-with-Twilight-creepy-person-staring-at-you. The only obstacle their romance, aside from the whole cancer thing, was Hazel's Peter Parker angst ("I don't want the ones closest to me getting hurt"). While their love story was pretty, it didn't really click with reality.
A good read, but not a life changing one, at least not for me.